♥ミ⇒ How can I support this Project?
↘
If you have
Paypal
, you can send a donation through our
Donation Tracker
.
↘
You can send
concealed cash
to a trustworthy member of the Staff who is living in:
US
(
cenara
),
Asia
(
`Alice☆엞랑
), or
Europe
(
La'MISS:fairy
), according to your convenience. All addresses can be found
here
.
The currency is irrelevant
, we'll get it exchanged.
♥ミ⇒ Donations: Extra Information
↘
This Birthday Project is
roughly
estimated to be worth
US$500
.
↘
Your donations count towards
Ryeowook's Project
; if not all is spent, it will be used for
future projects
.
↘
You can donate as much as you want; the
minimum
donation amount is
US$5
.
↘
If the goal amount is
surpassed
, you can
still
donate.
↘
If you want to donate to Ryeowook's Project
only
, please state so in the
notes
when you process your donation, or send concealed cash.
♥ミ⇒ SJ-World Project Gifts
To. RYEOWOOK
↘ MAIN GIFT: Piano-shaped Music Box
No picture yet
↘ GIFT #02: Italian Leather Composer's Book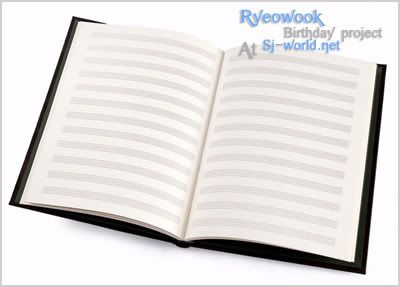 ↘
We do know that composers use mainly their computer, but it's something pretty and personalised with a meaning behind it. (especially with his first self-composed song coming out in the 3rd album repackage.)
↘ GIFT #03: personalised pendant
↘ GIFT #04: Clothes/accessories
↘ GIFT #05: Clothes/accessories
No picture yet
↘ GIFT #06: Special project
This is another project asking for everyone's participation
!
The project will be organised the same way as Eunhyuk's candies project, but this time we would like you to send in music CDs by artists from YOUR country, that are sung in your native language (or whichever language is mostly used by your country's artists)!
It can be any type of music - the aim is to help Ryeowook discover other musical styles, not just things we know he already likes.
You can send either brand new CDs or your own old CDs, if they are in good enough condition. (CD not scratched and plays well, box not broken)
DO NOT
ask to send mix CDs you've made yourself! Only actual CD albums will be given to Ryeowook.
YOU NEED TO SEND ALL CDS BEFORE JUNE 7th
That's two weeks before Ryeowook's birthday, and two weeks is the average time it takes for shipped packages to arrive in Korea. (If you use express shipping, you can send CDs after the deadline.)
It might be easier if people from the same country can get together and arrange to send all their CDs at the same time.
Also remember to properly package the CDs when you send them, because we can't give Ryeowook any that are broken!
Obviously we want to make sure that the same CD isn't sent twice by anyone, so if you want to participate and send in an album, please check
THIS TOPIC
first to make sure nobody else has already listed it.
If nobody has, leave a comment in that thread with the name of the artist(s) and album(s) you're sending.
Everyone can send as many CDs as they want, as long as they're all by artists from your country!
Note for American & Canadian people:
To make this more fun, also try to go for more underground and less well known artists and not take the ones Ryeowook probably knows already.
Note for Chinese people:
Try to avoid all the artists we already know Ryeowook likes, like Lee hom, Jay Chou, etc. He probably has them already.
Summary:
-- Send one or more music CDS from your OWN country in your OWN language to Ryeowook!
-- Remember that the idea is to help him discover new music, so please avoid artists that are already famous worldwide.
-- Check
this thread
and leave a comment telling us which CD(s) you're going to send!
-- Make sure all CDs are well-protected and packaged, and send them BEFORE JUNE 7TH to this address:
QUOTE
Alice Barthelemy
서울시 서대문구 창천동 29-81외 13필지
신촌르메이에르타운 5차 915호
120-180 South Korea
If you can't read korean language, use
this image
If you're not used to writing in Korean, the best thing to do would be to print out the address and attach it to your package!
Also always add in your package the country you come from! So we can give the Cds to Ryeowook by countries!
If your post office requires you to write the romanised address for custom forms
, use this:
Alice Barthelemy
29-81WE 13-PILJI SHINJON
LE MEILLUER TOWN 5-CHA 915-HO
120-180 SEOUL, SEODAEMUN-GU
Remember that this is
ONLY
to be used on
CUSTOMS FORMS
-- the package itself must be labelled with the
KOREAN ADDRESS
or we won't ever receive the CDs you send!
♥ミ⇒ Wrap up & Reminders
↘
Ryeowook's birthday is on
June 21st
, it's in a month from now.
↘
Cds can be sent starting from
Today
, Do not send anything after June 7th or it might not arrive in time (except express shipping)
↘
Donations can be sent starting from
Today
, there is
NO deadline
.
↘
Paypal
:
Donation Tracker
.
↘
Concealed cash to
:
US, Asia, or Europe
Thank you VERY MUCH for everything!

All your future donations will be highly appreciated,
let's show Ryeowook he has many loving and caring fans all over the world. ♥

If you have any questions, please ask here! :)
credit: sj-world.net